Hi folks,
The Eldar are coming along nicely, the farseer is finished and the warlocks should follow shortly,
Have got the base coat and first wash on the Screaming Banshees. I have started blacking out the weapons and gems, I will finish that and then get on with building up the bone colour on their suits.
I have also got the Dark Reapers and Warp Spiders primed and ready to start. For some reason the Matt primer i used came out shiny, so i will have to go over them with some watered down black or maybe some matt varnish.
Next up, I have been doing a little bit of work on my Imperial Guard in between Eldar sessions. I went back and changed the plasma colour on one of the older models from orange to turquoise as it seemed to fit a little better.
Next up are 6 guardsmen that I managed to finish, nothing too special, but it means I'm that little bit closer to complete ;)
Also put some base colours on the Ogryn.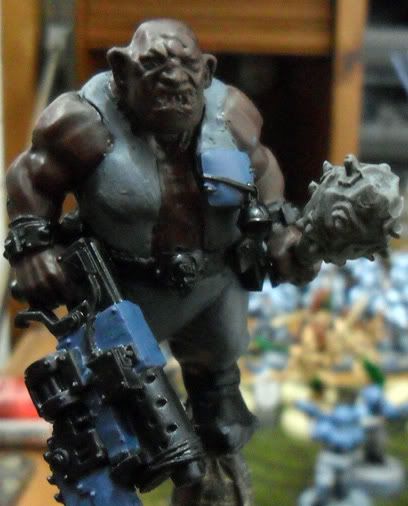 On the base front, I just cannot justify the cost of buying the resin bases (to my wife anyway!), so I will need to make my own. The choice is to go with the slate bases or maybe go back to my original urban bases (way back when my guard were red!); what do you guys think? or do you have any better ideas?
And finally here are a couple of pics my objective markers and some pics or my Marbo.
I need to track down another aquila to finish the Objective markers off, it's the one from the Apocalypse vehicle command sprue, if you spot one let me know!
I still need to come up with a good name for the army, does anyone have any ideas? I was thinking along the lines of the Cadian 24th "Dire wolves", but if anyone has a good name feel free to post it.
Until next time..
Apoc