Howdy folks,
Have been up to a few different bits and pieces since the last post, mostly trying to sort through the stupid amounts of bits and figures that I have stored in an even stupider amount of odd containers.
First up I rolled out the troops to see what I need to build up next and tally up what I actually have points wise to field: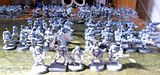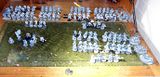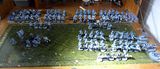 So the count is at 152 models and the point count comes in at 163.
I have no vehicles in the army as yet, but will get some big guns to launch some long range destruction across the board before the combined fire of the infantry begins to rain down. I also need to sort out a couple of units with a bit more staying power than a normal guard unit that will take and hold an objective until the reinforcements can get there to back them up.
Will post my list in the comments for this post, if you have any ideas or suggestions, feel free to leave a post.
As you can see in the pics, most need finishing and I am still not sure what I am going to do about basing them; I was going to buy a load of snazzy bases from Secret Weapon, Dark Art or Dragon Forge but just can't fund it. They are playable at least and legal, so I will try and get a game in at some point over the next couple of weeks.
Next up, I have had some Eldar to do for a commission job. I was sent the Farseer and Warlocks, Harlequins, Banshees, Reapers and Warp Spider boxes.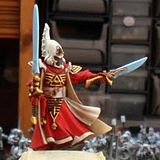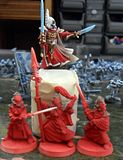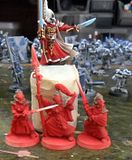 Started on these and I am hoping to have these done over the next week or two, then on to the next box :)
The Ogres came out of the dip and are ready to be primed and repainted once I have some time.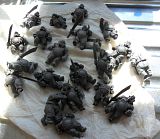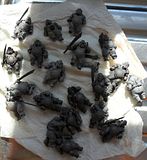 Finally, after seeing all my guard lined up and having a flick through the guard codex, I decided to make a Nork Deddog to help protect my commanders.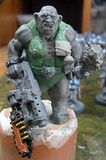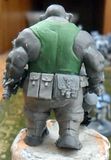 A little rough, but I quite like him. I slimmed him down a fair bit by shaving down his gut and love handles so he is a bit more trim (shame I can't do that in real life!). Not perfect but I will keep working on im until I can make something better.
Thats enough from me,
Thanks for stopping by :)
Apoc